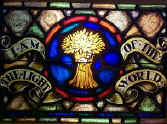 Mission Statement
As ambassadors for Christ, our Mission is to worship God, nurture the faith, and be a Christian presence in the community by reaching out in awareness, fellowship and love in action.
Church Information
Located within the Town of Laurentian Hills in the Upper Ottawa Valley (40 km NW of Pembroke, 10 km SE of Deep River), St. Andrew's has a current congregation of ninety families from the surrounding area. Founded in 1875, our church continues to be a vital member of the local extended community and boasts an active Youth Group, Choir, U.C.W., Prayer Group, and Bible Study.
Committees and members on Council.
40 Joseph St, PO Box 190, Chalk River, Ontario, Canada K0J 1J0
Phone: 613-589-2312 General Contact
Copyright © 2005-2021
WEB www.standrewschalk.ca FB https://www.facebook.com/standrewschalkriver/
St. Andrews United Church, Chalk River, Ontario
Site Hosting and Web Donated by: D.Lemire April, 2021